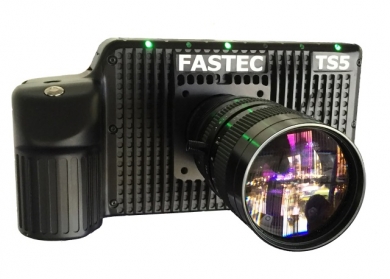 • Handheld, battery-powered, with built-in touchscreen LCD
• Four models: from -L: 800 x 600, to -Q: 2560 x 2048
• Advanced 5-Megapixel CMOS sensor
• Multiple recording modes to suit any situation
• Control via touchscreen, FasMotion PC/Mac app, or web browser
Full Data Sheet
Download File
Standard Record Mode: Classic High-Speed Imaging – The TS5-H records beautifully sharp 1920 x 1080 video at 634 frames per second, while the TS5-Q records amazing 2560 x 1440 video at 359fps, in vivid color or monochrome. Smaller resolutions may be recorded at faster frame rates: 720p @ 1400fps, 800 x 600 @ 1677fps, etc. Binning and sub-sampling features of the sensor give the TS5 great flexibility and sensitivity.
FasFire Mode – Ultra-fast save times to the onboard media while simultaneously recording high-speed bursts of hundreds or even thousands of images at a time, the TS5 is always ready for the next high-speed snapshot!
Portability – With its small form factor, battery operation, large built-in LCD touch screen and intuitive on-screen menu system, the TS5 puts the power of both a traditional high-speed camera and long-record system into the palm of your hand. The TS5 is a true point-and-shoot high-speed camera solution.
Flexible Control – The TS5 can be operated as a self-contained, handheld camera, or controlled over Gigabit Ethernet via Fastec FasMotion software on your PC or Mac or via the built-in web interface with your favorite web browser on your PC, Mac, tablet, or even your smartphone.
High-Performance Image Transfer – The FasMotion application makes workflow a breeze with transfers of uncompressed images via Gigabit Ethernet at rates of 50–80MB/s to moderately equipped PCs.
Multiple Storage Options – The TS5 features both a USB port and an SD port for quick and easy image downloads to USB flash drives, SD cards, or portable hard drives. The built-in SSD provides up to 1TB of lightning-fast non-volatile internal storage.
RECORD TABLES