The compact size of the FASTCAM SA8 conceals powerful high speed imaging performance. A choice of two performance options provide frame rates of either 2,000 fps or 3,500 fps at 1,280 x 1,024 pixel image resolution with increased frame rates at reduced image resolution.
For automotive testing users, the FASTCAM SA8 exceeds the latest requirements for airbag testing by offering 896 x 896 pixels @ 5,000fps
Innovative CMOS image sensor technology provides high quality, low noise images not previously available from high speed camera systems. True 12-bit ADC produces sharp, high contrast imaging to perfectly replicate the fine detail of subjects being recorded. Excellent light sensitivity and a 10 microsecond global electronic shutter allow the system to be employed in demanding imaging applications.
The 12.8 x 10.2mm sensor size allows the FASTCAM SA8 to utilize 1 inch format C mount lenses and F mount lenses. The camera benefits from a sealed camera body construction allowing use in harsh environments without ingress of dust and other contamination. The camera's rugged and compact design (camera body size 151(5.9″) x 102 (4.0″) x 195 (7.7″) mm) allows positioning in space-limited locations and integration with other instrumentation systems.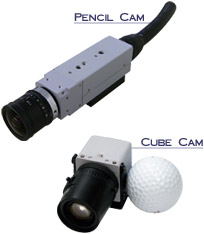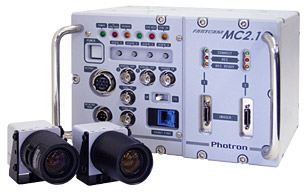 Features
Two small and lightweight camera head types:
• Cube Cam: 35mm (1.38″) x 35mm (1.38″) x 33.3 mm (1.31″)
• Pencil Cam: 23mm (0.91″) x 23.2mm (0.91″) x 77.1mm (3.04″)
2,000 fps (frames per second) recording rate at full image resolution
Rugged design for use in industrial environments. Remote camera head with 7 meter cable allows positioning in difficult to access locations
Three model options (monochrome or color):
• Model 500: 512 x 512 pixel resolution at frame rates up to 500 fps
• Model 2K: 512 x 512 pixel resolution at frame rates up to 2,000 fps
• Model 10K: 512 x 512 pixel resolution at frame rates up to 2,000 fps and frame rates up to 10,000 fps with reduced image resolution
1GB (4 seconds recording time at 1,000 fps) , 2GB (8 seconds recording time at 1,000 fps) or 4GB( 16 seconds recording time at 1,000 fps ) memory
Gigabit Ethernet control via Photron FASTCAM Viewer (PFV) software
Optional handheld remote controller with integrated 5″ LCD monitor for simple control of all functions and viewing of live and recorded images
High speed video can be synchronized with external analog data from load cells or accelerometers with optional DAQ