Full HD Resolution to 2,000 frames per second (fps)
The FASTCAM SA2 represents the very latest in high speed camera technology, its 2,048 by 2,048 pixel sensor provides full 12-bit resolution to over 1,000 fps and Full HD resolution at 2,000 fps!
Engineered to Photron's usual very high standards (we enjoy the best reputation for reliability and user satisfaction in our industry) the FASTCAM SA2 utilizes a purpose-built electronically cooled 12-bit monochrome, 36-bit RGB color, sensor for excellent light sensitivity, color fidelity and dynamic range. If you're fed up with the dull, muddy images from other high speed cameras provide, perhaps it is time you took a look at the SA2.
Operating as fast as 86,400 frames per second at reduced resolution, the SA2's CMOS sensor is perfectly suited to provide our PIV and DIC customers with a new solution for their high speed imaging applications requiring greater resolution than our proven FASTCAM SA1 and 1024 PCI systems provide. The FASTCAM uses an RS-422, hot-pluggable, remote control keypad for easy operation without needing a computer connected at all times.
The FASTCAM SA2 is available in three memory configurations; 8GB, 16GB, 32GB and 64GB providing affordable record durations to over five seconds at full HD resolution at 2,000 frames per second. To help ensure your images are crystal clear a 2.7 microsecond shutter is used, independent of frame rate, to remove any blur from subjects moving fast within the sequence.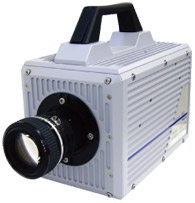 Features
Performance examples:
• 2,048 x 2,048 pixels @ 1,080 fps
• 1,920 x 1,080 pixels @ 2,000 fps
• 1,024 x 1,024 pixels @ 3,200 fps
Full HD resolution (1,920 x 1080 pixels) to 2,000 fps
Incorporates Peltier temperature stabilized sensor and on-chip microlens array for optimum image quality and light sensitivity
Available with three memory configurations:
• 8GB for 1.29 seconds at 2,000 fps @ 1,920 x 1080 pixels
• 16GB for 2.58 seconds at 2,000 fps @ 1,920 x 1080 pixels
• 32GB for 5.17 seconds at 2,000 fps @ 1,920 x 1080 pixels
• 64GB for 10.35 seconds at 2,000 fps @ 1,920 x 1080 pixels
Rear panel has dual HD-SDI and one RS-170 BNC outputs for real time monitoring during setup, recording and playback
Photron FASTCAM Viewer (PFV) computer control via the Gigabit Ethernet port
Four user selectable function buttons for easy rear panel control of camera
Low-light mode for initial set up of camera position and focus
Monochrome or color sensor captures 12-bit (36-bit color) uncompressed data
Range Version (RV) option with sealed case to prevent dust or moisture getting inside the camera case where it could damage the internal electronics.