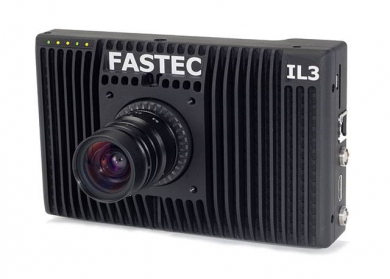 • 1280 x 1024 at 510 fps CMOS sensor
• Multiple removable storage options
• Up to 512GB of onboard image storage
• Camera control via built-in web interface or FasMotion PC/Mac application
Full Data Sheet
Download File
High-Speed Images – The Fastec IL3 records ultrasharp 1280 x 1024 mono or vivid color images at over 500 frames per second, opening a world of events too fast for the human eye to see.
Flexible Control – The IL3 can be controlled over Gigabit Ethernet via Fastec FasMotion software on your PC/Mac or via the built-in web interface with your favorite web browser on your PC, Mac, tablet, or even your smartphone.
FasFire Mode – Ultra-fast save times to an SSD or SD card while recording high-speed bursts of hundreds or even thousands of images at a time, the IL3 is always ready for the next highspeed snapshot!
Multiple Storage Options – The IL3 features both a USB port and an SD port for quick and easy image downloads to USB flash drives, SD cards, or portable hard drives. An optional built-in SSD (solid state drive) provides for up to 512GB of lightning-fast non-volatile internal storage. Shoot all day long without having to download to a computer.
High-Performance Image Transfer – With download rates of about 8GB per minute to the optional internal SSD, or just seconds for short clips, you will always be ready to take the next shot with the IL3! The FasMotion application makes workflow a breeze with transfers of uncompressed images via Gigabit Ethernet at rates of 50–80MB/s to moderately equipped PCs.
RECORD TABLES