PFV (Photron FASTCAM Viewer)
PFV (Photron FASTCAM Viewer) software had gained many fans over the years for its robustness, reliability and ease of operation. With the release of several new cameras, specifically the super-fast FASTCAM SA-X, FASTCAM SA5 and multi-head FASTCAM MH4, PFV has been given a face lift and major overhaul to improve its functionality and give it a fresh new look – introducing PFV3.
PFV (Photron FASTCAM Viewer)

PFA has been designed to be used as a powerful optional motion analysis accessory for our Photron FASTCAM Viewer (PFV), the camera control software for FASTCAM cameras.
With PFA, it is possible to analyze motion within an image sequence directly imported from PFV in order to measure displacement, velocity and acceleration, which can then be easily exported to a comma separated values (csv) file in Excel™ or similar. The resultant analysis graphs can be viewed synchronized with the recorded high speed images.
Our vision for PFA is that the novice user can easily process an image sequence quickly and simply, without the needing to perform complex importation procedures or define intricate analysis parameters. By successfully implementing these ideas PFA is perfect for those new to motion analysis or those requiring fast results.
FASTCAM NI DAQ Software Option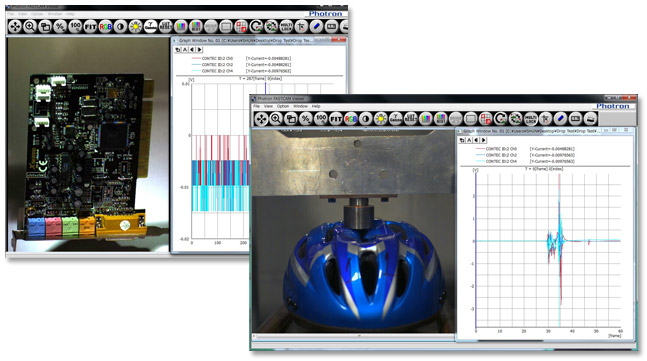 FASTCAM NI DAQ Software Option is designed to synchronize Photron slow motion cameras with the bestselling M Series integrated BNC Data Acquisition (DAQ) units from National Instruments ™. The NI USB-6251 BNC provides eight differential analog channels (16 Single Ended) with an aggregate one million samples per second data rate.
The optional NI USB-6251 BNC is controlled by the Photron Fastcam Viewer (PFV) camera control software and enables simultaneous recording and playback of both analog data very precisely synchronized with high speed video sequences recorded anywhere from 60 to 1.5 million frames per second (fps).