Designed for both on-board and off-board vehicle safety testing, the FASTCAM Mini CX camera delivers an exceptional combination of resolution, frame rate, light sensitivity and durability in a compact, standalone package.
With 1080 HD resolution at 1,000 frame per second and an industry leading light sensitivity of ISO 5,000 color and ISO 10,000 monochrome, the Mini CX provides outstanding image quality. Well suited for the space limited locations and High-G operating environments common to automotive safety testing as well as certain military/defense applications, the Mini CX is Photron's smallest, lightest and – with operational testing to 150G – most rugged standalone camera.
Additional features add to the usability of the Mini CX. For instance, HDMI video output allows easy local focusing of the camera. An internal battery offers 30 minutes of camera operation if the primary power source fails during a test. Rapid download to nonvolatile memory ensures protection for recorded images. A built-in accelerometer provides a backup trigger source.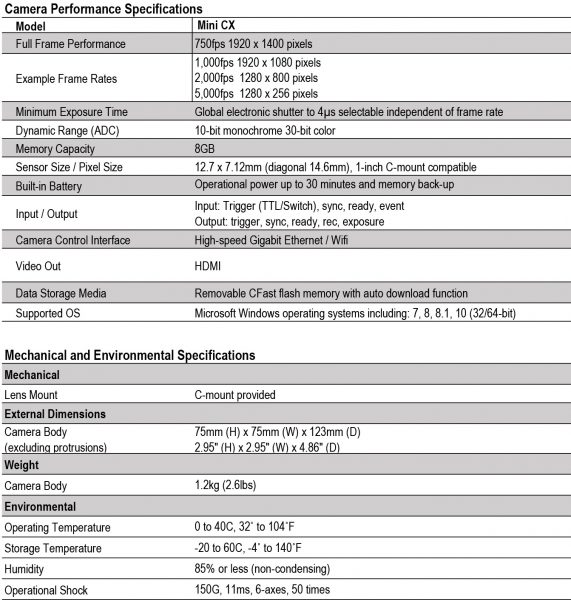 Applications
Biomechanics
Life sciences
Off board automotive safety testing
Defense and aerospace research
Fluid dynamics
Material science
Features
Megapixel CMOS Sensor:
1920 x 1080 pixels at 1,000fps
1280 x 800 pixels at 2,000fps
1280 x 256 pixels at 5,000fps
Class Leading Light Sensitivity:
ISO 12232 Ssat Standard
ISO 5,000 color
ISO 10,000 monochrome
Global Electronic Shutter:
4μs independent of frame rate
Dynamic Range (ADC):
30-bit color
10-bit monochrome
Compact and Lightweight:
75mm (H) x 75mm (W) x 123.5 mm (D)
2.95" (H) x 2.95" (W) x 4.86" (D)
Weight: 1.2Kg ( 2.6lbs.)
Internal Recording Memory:
8GB
Fast Gigabit Ethernet Interface:
Provides high-speed image download to standard notebook/PC
Video Out:
HDMI Video Output
Removable Data Storage:
CFast Compact Flash drive for high-speed data transfer. Auto download to CFast media after
recording is available.
High-G Rated:
Suitable for application in high-G environments;
Operation tested to 150G, 11ms, 6-axes, 50 times
Built-in Battery:
Provides operational power for up to 30 minutes and memory backup.